The Reader
After-hours edition of
Subterranean Homepage News
(Why"The Reader"?)
---
August 4, 2002
Recital at Newport
Cowboy Dylan's fire has gone out
Bob Dylan, a phony cowboy in a wig and phony beard, returned to Newport yesterday, but this time he didn't rock. We left early.
(Did I really write that? Yes. Was it true? Yes.)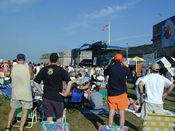 Nobody's rockin'.
Click to enlarge
In '65, I danced on my wooden folding chair -- a reserved seat 30 feet from the man -- to a hard-rockin' Maggie's Farm. Yesterday, so far back in the sea of folding chairs that we couldn't even see him, we were part of a crowd that floundered when it came to Name That Tune, and waited in vain for more than a few seconds of a danceable beat. So many songs opened with lovely, unfamiliar notes that yielded to strange phrasings of old familiar words, killing the rhythms.
Despite the later hype, the '65 concert was not a shock. In May, I wrote, "Bringin' It All Back Home, the album with Maggie's Farm on it, had been released in March of the same year, and Like a Rolling Stone (RealAudio clip), released in July, was currently a radio hit, so the electric set was really only a surprise to those who thought Bob might revert for the occasion." He just played it to the wrong crowd, the crowd that gathered earlier yesterday at a side stage to hear an earnest voice sing This Land Is Your Land.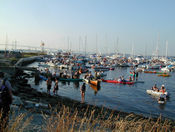 Boat people.
Click to enlarge
No alcohol was sold here, and uniformed DEM officers searched coolers. Other security people, communicating on cell phones, zeroed in on people with cameras. Nobody smoked dope. This was a crowd of subdued adults of all ages, very few children and no hippie broods. Their collection of portable chairs nearly pushed the crowd into the sea, which had become a floating parking lot, with its own crowd perched on the decks of dinghies, schooners, a Chinese junk and even an eight-story cruise ship.
Yesterday, Dylan's set opened ominously with an announcer repeating that "for this performer, photographs are not permitted. Think of it as Carnegie Hall." (Carnegie Hall? I'm outdoors on the lip of the Atlantic Ocean in the blazing August sun, next to a falafel stand.)
What followed was a canned orchestral build-up, opening with what many of us at the western end of the fort thought was the theme from Star Wars. (Star Wars? Not Masters of War? Uh-oh. Turns out it was an Aaron Copland medley that went over many lower-brow heads.) Next to me, a contemporary groaned, "Show tunes. He's gonna do show tunes."
Finally, "Ladies and gentlemen, please welcome Columbia recording artist Bob Dylan." What came next wasn't Maggie's Farm (it never did come) but the little-known Roving Gambler, a tune he didn't write. (The Brothers Four recorded the traditional song in 1960.)
Back in the bleachers, deprived of visuals, some still sat; those who stood couldn't grab a beat. We were waiting to dance.
Next came The Times They Are A-Changin' with a cantina feel. (Think of it as Farewell Angelina with the wrong words.) We're not rockin' yet, but we're appreciative. He'll get there.
And so it went. Down in the Flood to an unrecognizable tune. (Since Dylan smeared the words, only the single snatch of a lyric, "You're gonna have to find yourself Another best friend, somehow" was a clue to what song this was.) A sweet, sweet intro led into the poisonous Positively 4th Street ("You've got a lot of nerve to say you are my friend...") Subterranean Homesick Blues without passion. A quiet, reflective Girl from the North Country with a lovely harmonica intro. Tangled up in Blue without the pain, nasal sometimes, all styling, no beat.
It was all cowboy feel, rockabilly without the rock, an apparently deliberate attempt to keep us from dancing, like a recital at... Carnegie Hall. We had been warned.
After a dozen of these, people started leaving, everyone carrying collapsed canvas chairs. Drifting behind the crowd, heading toward the exit, we finally got a glimpse of his white cowboy hat. We stopped behind the sound board, joining a high-energy bunch of young guys for Mr. Tambourine Man. They tried to rock, but Dylan turned the anthem into a spoken-word parody of William Shatner's truly awful version.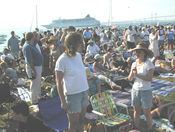 Bleachers by the sea.
Click to enlarge
Bored with the the monotony of the cantina mood, we joined the already long lines for the bus to the parking lot after 13 songs. (There were 19 in all, including encores, AP reports.)
Snaking our way through Newport traffic, we slipped some Dylan CDs into the Focus ZX3's super sound system, and had our own concert with a more passionate, more authentic Bob Dylan.
AP reports that Al Gore was in the wings, and that makes perfect sense. There was no magic in the music. We had never danced, not once.
'65 was better.
Link •