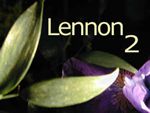 Blues for Mai Cramer



Quote
"Bin Laden is the known face of a particular brand of politics that committed suicide in New York and Washington on Sept.11, 2001, killing thousands of innocent people in the process.
His ghost may continue to linger on, partly because Washington and Islamabad, among others, find it useful to keep it in the headlines for a while. Bush still has an election to win next November and Musharraf is keen to keep his country in the limelight as long as possible.
Arab News

Tribe
Andrews
Blake
Cocroft
Copeland
Cornett
Doctorow
Lasica
Levine
Paul
Poe
Powers
Robins
Searls
Winer

---
My brother's project
USS Saratoga Museum Foundation
My other sites
Subterranean Homepage News
at projo.com
Comments by

On July 17, 2002, the Technology Administration will host a Public Workshop on Digital Entertainment and Rights Management.

This Workshop will bring together leaders from the information technology and content industries to address the status of technical standards that provide the framework necessary to enable legitimate digital media distribution and the present state of strengths, weaknesses and availability of current and imminent technological solutions to protect digital content, barriers that are inhibiting movies, music and games from coming online.

In preparation for this workshop, the Technology Administration invites public comment on the following topics:


The effectiveness of efforts to pursue technical standards or solutions that are designed to provide a more predictable and secure environment for digital transmission of copyrighted material;

Major obstacles facing an open commercial exchange of digital content;

What a future framework for success might entail;

Current consumer attitude towards online entertainment.

Please provide comments in the space below - comments will be available for public review (email addresses will be deleted)

Privacy policy
Email:

Comments:

Thank you for your input.
Background: The blogosphere works. I saw an announcement of this hearing on Slashdot and blogged it, including that it solicited comments but offered no comments form. And that I had emailed the generic front-door email address.
Tom Poe read about it here and left a note in the comments saying he'd acted further on this info -- he wrote to a specific person at the Technology Administration, and received the following back from her:

Cheryl.Mendonsa@TA.DOC.GOV wrote:

Mr. Poe: Thank you for your interest in our July 17 DRM roundtable. You will be pleased to learn that we have today posted on our web site a public comments page on our web site which can be found at:

http://www.ta.doc.gov/comments/comments.htm

We will also have a transcription service at this event so that minutes of the meeting will be posted to our web site as we have done in the past with our Federal R&D roundtables and others.

Your criticism of eliciting public comments is a valid one, and we attempt to engage and inform the public by hosting both Washington-based and local roundtables, workshops and meetings on a variety of topics. We have also attempted to capture many of our events through photos essays also posted on our web site, along with our public affairs e-mail address for comments.

We appreciate your taking the time to contact us.


Cheryl Mendonsa
Office of Public Affairs
Ph. 202-482-8321 or 482-5913
Fax. 202-501-6054
cheryl.mendonsa@ta.doc.gov
What Tom Wrote: Here's what Tom Poe wrote. It apparently worked, and I reproduce it here in the public interest:
Hello: I am forwarding a copy of a message sent to other staff at your agency, in an attempt to clear up confusion, which, unfortunately, is believed to be intentional due to other government agencies in the past that have abused the policy of providing access for general public comments by obfuscating, ignoring, blocking, or otherwise deliberately avoiding receipt of public comments on issues important to the general public. Please forward this to Chris Israel, who is responsible for this injustice.
Respectfully,
Tom Poe
Reno, NV

-------- Original Message --------
Subject: Hearing of July 27th Problem . . . .
Date: Sun, 07 Jul 2002 19:15:46 -0700
From: tom poe
Reply-To: tompoe@renonevada.net
Organization: Open Studios
To: Mweisskohl@ta.doc.gov
CC: cheryl.mendonsa@ta.doc.gov, Sheila Lennon, dmca_discuss-admin, eff.org, community_studios (email addresses edited for privacy)

Hello: I found this link to the announcement for a hearing on July 17, 2002, that was posted in the Register. It announces a Public Workshop on Digital Entertainment and Rights Management. Your agency has not made it possible for the general public to participate with comments. The site you list does not provide an email address, a page link to submit a form, or any discussion of the Public Workshop.

Please forward this to the appropriate individuals, and point out to them that they are giving the impression of acting as if they are attempting to engage in activities that are not beneficial to the general public. Which, in my opinion, they are.

I have copied this to other lists, in order to provide a contact through your agency to those responsible for the Public Workshop. Thank you for your assistance in forwarding this email and others that may arrive in your mail box, and Cheryl's mail box.

Respectfully,
Tom Poe
Reno, NV

http://makeashorterlink.com/?A1EC62531
Footnote: My email to the generic address -- Public_Affairs@ta.doc.gov -- received no reply.
Link •
Still the same: Longtime rock critic Wayne Robins rightly slashes some sloppy journalism: " In his column July 5, Daniel Henninger, the deputy editor of the Wall Street Journal's clamorously conservative editorial pages, wrote a truly indecipherable column having to do with rock and roll, patriotism, and John Philip Sousa."
Henninger may know Sousa, but he don't know squat 'bout rock 'n' roll. Henninger writes:
" 'Rock 'n' roll is here to stay, it will never die.' That lyric, taken from the rock-musical "Grease" and made into an anthem by the oldies group Sha-na-na, once seemed true to me."
And Shaggy wrote Angel of the Morning, right?
You know he's in the '70s with these references, right? Sha-Na-Na was a "camp" cover band; Grease was full of cover tunes.
"Rock and Roll is Here to Stay" was written by David White of Danny & the Juniors, who recorded it (audio clip) in 1958.
Go read Wayne's rant, Lazy Punditry Is Here To Stay
Link •
Old-media advisor doesn't get it: Editor & Publisher reports:
"Newspaper new-media executives should spend more time focusing on consumer behavior and less time worrying about the latest evolution in technology, said Roger D. Blackwell, a consumer behavior expert and professor at Ohio State University

... When Blackwell goes online, he's typically less interested in casual scanning and more likely to be looking for something specific. 'Online is really for searching, branding, and marketing." Blackwell thinks efforts to replicate online the experience of reading a print newspaper will probably fail.' "
Online journalism isn't about copying the newspaper.
The paper contains only the amount of news that fit the space left over after the ads were booked. The "news hole" is unlimited online, and the Web staffs can generate greatly expanded news sections using web links.
The medium is also interactive, with the potential for instant reader reaction and participation. (At projo.com, we've invited local artists and musicians to put their work on our site for free; we link mp3s to the band's name in local gig listings, so readers can hear a band before they pop for the cover at a club. You can't do this in print.)
The scripts copy the newspaper stories. Web staffs can invent and generate new forms that are impossible in print.
Link •
Houston Chronicle: Veteran civil rights leader Julian Bond opened the 93rd annual convention of the National Association for the Advancement of Colored People on Sunday night with an uncompromising attack on the Bush administration, Attorney General John Ashcroft and what Bond called "a right-wing conspiracy."

News We Can Use aims to publicize stories that you may have missed in the mainstream press. Helluva current set of links.
EBay to Buy PayPal in $1.5 Billion Stock Deal via Dave Winer
July 6-7, 2002
The Quote
"The imperial presidency has arrived. On the domestic front President Bush has found that in many ways he can govern by executive order. In foreign affairs he has the nerve to tell other people that they should get rid of their current leaders. Amazingly, with Americans turning into a new silent majority and Congress into a bunch of obeisant lawmakers, he is getting away with such acts. The lawmakers are worried that Bush will play the "patriot card" in the November elections to attack dissenters and opponents." Helen Thomas, July 3, 2002
"With God on our side": Interview with a WW2 combat infantry veteran who recalls seeing that phrase on the belt buckles of dead Germans. He's also the judge who declared "under God" unconstitutional. (Song clip, Dylan, MTV unplugged version)
Link •
Digital Rights Management comments for psychics: From Slashdot: "The United States Department of Commerce Technology Administration (TA) announced a public workshop on digital entertainment and rights management. They're taking public comments here according to the announcement, but they sure have hidden it well. Can anybody find the form? The deadline is July 11!!"
The hearing is July 17.
If you can find a form on that site, you can comment; there also doesn't seem to be an email link. Of the people, by the people, for the people!
Updates: -- "FOR FURTHER INFORMATION CONTACT: Further information relevant to the substantive issues to be addressed by this workshop may be obtained from Chris Israel Deputy Assistant Secretary for Technology Policy, Technology Administration, (202) 482-5687."
-- "I would think sending an email to Public.Affairs@ta.doc.gov would work also."
(I just emailed them, and will post any reply.)
Link •

My generation: Paul Andrews writes, "Why wouldn't Bush want the FBI to finger Mr. Z?," he asks about the scientist with close ties to our biodefense program who was infuriated when his top secret clearance was yanked a month before the anthrax attacks began.
"For the same reason it does not want bin Laden apprehended. For purposes of distracting a country with perpetual war, a terrorist in the Bush is worth hundreds in the hand."
Cynical? Nope, Paul is of my generation. In the late '60s and early '70s we upended a culture we couldn't bear to live in, at enormous personal cost. Violent verbal battles were fought between parents and their children (us!) over support of the Vietnam war as a litmus test of patriotism, the injustice of racial prejudice, the emptiness of a life lived only to make money, a woman's place, illegal weeds, hypocrisy /what the neighbors will think and, most personally, hair and skirt length, corsetry and virginity and The Pill.
Some families shattered beyond repair under the unwillingness of either the old world or the new to yield their values. One of the biggest clashes was over blind faith in our leaders.
We -- the young -- learned early we could not trust the government. Governments lie:
Distinguished journalist Flora Lewis, who died last month, wrote in the August, 2001 in the International Herald Tribune,
I remember the moment when it first struck me clearly that I was hearing the truth from a North Vietnamese spokesman while his American counterpart was lying to me. It was during the Paris Vietnam talks, in 1972, and it came as a shock that I could take the enemy's word but not my own countryman's.

I had long understood that American officials answered questions in a manner to produce the most favorable effect for their explanations. But it was assumed that while there might be omissions, shading, a degree of misleading, they didn't tell us correspondents flat lies, while the representatives of hostile governments did. Again and again, as the war proceeded, that turned out to be the reverse of the fact. And it didn't start with President Richard Nixon. At the beginning of the American involvement, General Maxwell Taylor was sent out to recommend a policy by President Kennedy, who urged him to use the excuse of river floods in Vietnam to disguise the dispatch of American military advisers, calling them engineers. That was done.

It was to make clear the steady, unremitting use of false information by one administration after another that Daniel Ellsberg decided to make public the Pentagon Papers. The disclosures of what the government had really been doing came as a thunderbolt.
I find it astonishing that George Bush, who came of age in the Nixon era (he turned 56 yesterday), forgets the folly of equating blind acceptance of governmental policy with patriotism.
"Among the many echoes of prior presidencies in Bush's (2002 State of the Union) speech, one caught a whiff of Richard Nixon: the assertion that Americans deserve the same bipartisan unity on domestic policy as on war policy. The implication - though he did not push it - is that opposition to his domestic agenda is unpatriotic," wrote Morton Kondracke of Roll Call.
The Patriot Act, Homeland Security -- the protests have begun. Here's a gathering of stories by the loyal opposition. Civil liberties we have lost since September 11 at Utne Reader.
There is no security.
Link •
Nonprofit cyberpopulism: "Simputer: Radical simplicity for universal access. The Simputer is a low cost portable alternative to PCs, by which the benefits of IT can reach the common man."
Made in India, it will cost $200 and up, and run on two AA batteries. Here's the story. via Robot Wisdom.
Link •
Feast your eyes: Judy Chicago's art piece The Dinner Party (photo) is finally receiving a permanent home at the Brooklyn Museum of Art. Chicago's own website gallery explains what it is: ..."a work of art, triangular in configuration, 48 feet on each side, that employs numerous media, including ceramics, china-painting, and needlework, to honor women's achievements. An immense open table covered with fine white cloths is set with 39 place settings, thirteen on a side, each commemorating a goddess, historic personage, or important woman. " Via f-word
Link •
Death without dignity: The first baseball player whose name I knew was Red Sox slugger Ted Williams, who died Friday at 83. And now, CNN reports, they're fighting over the body. "On Saturday, Williams' estranged daughter accused her half brother, John Henry Williams, of planning to cryogenically freeze their father's body and preserve his DNA, perhaps to sell in the future. "
Link •

See it and say it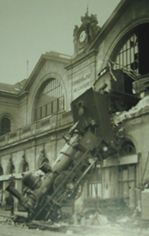 Detail of a photo of a train that didn't miss the station. Uncaptioned, it decorated the wall of our houseboat in Amsterdam. (enlarge)

DOGMA 2000
The point :-->
The manifesto :-->
The dogma :-->
. . . . . . . . . . . . . . . . . . . . . .
DOGMATIC, FANTASTIC, INDEPENDENT
the rule is only in YOUR head
. . . . . . . . . . . . . . . . . . . . . . .

. . . . . . . . . . . . . . . . . . . . . . .
Photos by Sheila Lennon unless they're credited to someone else

Content on this site
may be copied
under the terms of the
Open Web Content License
. . . . . . . . . . . . . . . . . . . . . . .