The Reader
Vacation edition
---
July 5, 2002
Doc Searls bemoans NYT expired links that slip into the paid archive: "I'd rather link to the original piece in the New York Times, but it's more than 30 days old and has herefore scrolled behind the paper's $2.95/link costwall. Earth to Times: Durable links to archived editorial add immeasurably to your paper's value as a source and an authority."
Doc, I don't think they'll do it: Archives generate a lot of revenue. Lawyers buy subscriptions to archives. And the runaway best seller among single-copy sales is obits -- compared to an official death certificate in most states, $2.95 is a bargain. In lean times, archives pay the rent.
Unfortunately, the overwhelming majority of archived stories are never bought by anyone. The "first drafts of history" languish, unbrowseable and unread.
It might be possible to broach the idea of a personal subscription, or even request that specific stories be be made linkable in the public interest. Worth a shot, Doc.
Link •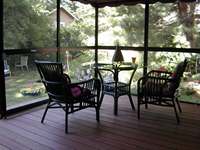 Click to enlarge
PORCH!
My porch fantasy came true last night,
built by the love of my life, Joe Landry,
with help from John Walker and Oz (David Ryan).
I'll be adding to this page throughout the day. Now, I have to set up lights, tables, plants on the porch, and think about wi-fi and a notebook. Back later...
Link •
July 4, 2002
98 degrees at 3:15, too hot to blog. Tonight...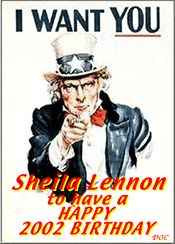 Doc Sheldon
Happy birthday to you, too, Uncle Sam!
Link •
July 3, 2002
Happy birthday to me
As a tot, I thought everybody was celebrating my birthday.(wav) I still do.(wav)